Impregnating Plants
Maldaner® Impregnating Plants
Development, design and production of impregnation systems from small manually operated units to fully automated lines.
Over 50 years of experience in impregnation technology enable the best engineering in our impregnation systems.
If you have large quantities of leaking castings, purchasing an impregnation system could be the most cost effective option.
At our German production site, we manufacture complete systems for metal impregnation. In addition to semi or fully automated standard systems, we offer custom-built equipment to suite individual needs.
The experience from our job-shops is included in new equipment.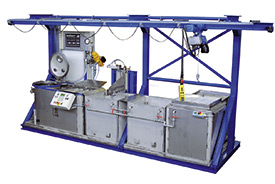 Dimensions – standard impregnating installations
System
Type
Charge basket dimensions
mm
Charge basket capacity
dm³
Overall length

mm
Overall width

mm
Required hook height

mm
Fill volume (impregnation sealant)
dm³
Hand operated Installations
M (550-Hand)
Ø450 x 400
52
5.800
1.800
1.900
240
A (600-Hand)
Ø560 x 510
100
6.800
2.200
2.200
320
AB (800-Hand)
Ø700 x 700
220
8.300
3.500
2.700
600
B (950-Hand)
Ø870 x 700
360
9.000
3.600
2.900
950
Automatic Installations
800-Auto
Ø720 x 700
200
10.800
4.000
4.200 *
900
1000-Auto
Ø920 x 860
450
13.200
4.500
4.400 *
1200
1200-Auto
Ø1100 x 930
720
15.000
5.000
4.600 *
1600
* = Overall height incl. autom. transfer system
All dimensions depending on configuration.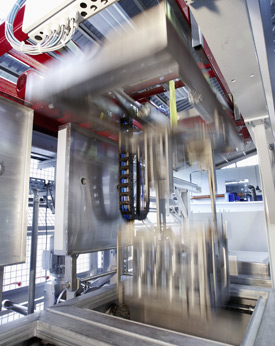 Fully automated systems
A transfer system delivers the charge baskets to the treatment stations where they are processed.
To recover excess impregnation sealant or wash water the charge baskets are rotated after each process step.
After removal from the polymerisation bath, the parts flash dry due to their residual heat. Formation of corrosion by moisture is thus prevented. A vacuum dryer can be added optionally.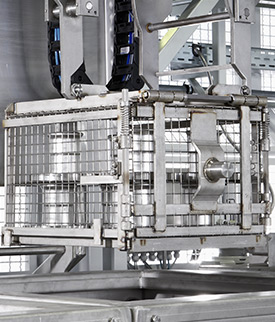 Special Equipment
We deliver any desired special device for the impregnation systems. Our designers develop the solution that corresponds to customer's demand; it is then optimised by impregnation tests in one of our job-shops with the customer's own castings.

To rationalise the impregnation process, we have developed a number of additional devices:
We recommend rotating baskets for complicated parts with bores, threads and blind holes. The closed basket can be rotated around its central axis when hanging from the crane. Excess impregnation sealant is recovered by various drain processes. The parts exit the wash and hot cure processes perfectly clean.

Special fixtures suitable for holding large, machined castings like gear housings or motor blocks are used. Such parts are firmly clamped to prevent any damage. Using these frames helps to enhance sealant recovery.

Washing devices help to improve washing and draining of complicated parts.

Vacuum dryers after hot cure provide completely dry work pieces and thus help to prevent corrosion by residual moisture.